Desde e-Skills for Jobs España, se ha participado en la conferencia organizada en el marco de la Campaña e-Skills for Jobs "Skilling up for the future of Europe : STEAMing ahead through Digital and  Key Enabling Technologies" el pasado 16 de Marzo. Se reunieron más de 200 participantes (administración, líderes empresariales y expertos) para debatir sobre las acciones que se necesitan para desarrollar las competencias necesarias que cumplan el papel de ser la gasolina para la economía, empleo y crecimiento en Europa. Entre los ponentes , destacamos particularmente al Principe  Contantijn de Holanda, Marietje Schaake, Europarlamentaria de Holanda, Markku Markkula, Presidente del Comité Europeo de las Regiones, Harry van Dorenmalen, Presidente de IBM Europa. Los Comisarios Elżbieta Bieńkowska, Marianne Thyssen y Günther Oettinger trasladaron también mensajes clave sobre la importancia de movilizar a los agentes clave y crear alianzas para reducir la brecha entre oferta y demanda de empleo en el sector TIC.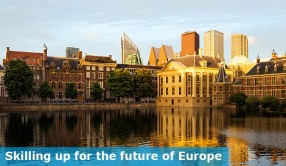 Below you can find the press release from the conference as well as links with media from the event.
Press Release, Brussels, 16 March 2016
You can find pictures from the event on the eSkills for Jobs Facebook page.
More pictures and highlights from The Hague conference can be found here.
See the details of the #eSkillsNL conference here: http://www.eskills4jobs.nl/programme/